TOLUNA UPDATES
We've transformed the way you collect insights. Now we're transforming the way you buy your insights with this first of its kind offer in Toluna Start.
​
We've transformed the way you collect insights. Now we're transforming the way you buy your insights with this first of its kind offer in Toluna Start.
Brands now have limitless access to the industry-leading Toluna Start platform, Toluna research experts, and consumer insights powered by the Toluna global panel community. Learn more about how Toluna is transforming how research is purchased and used.
DIGITAL EVENT
Futureproofing your Business - On-Demand, Digital Event
​
Futureproof your business with an 'always on' agile insights strategy.
Access our on-demand event, designed to help you to accelerate change by applying innovative insights strategies to your business. Insights is the new currency and we've built a series of meaningful events designed to speak to key trends, areas of opportunity and what we'll expect of consumers into 2021 with insight from our panel of global industry leaders.
GLOBAL CONSUMER BAROMETER
Wave 16 of Our Global Consumer Barometer is Here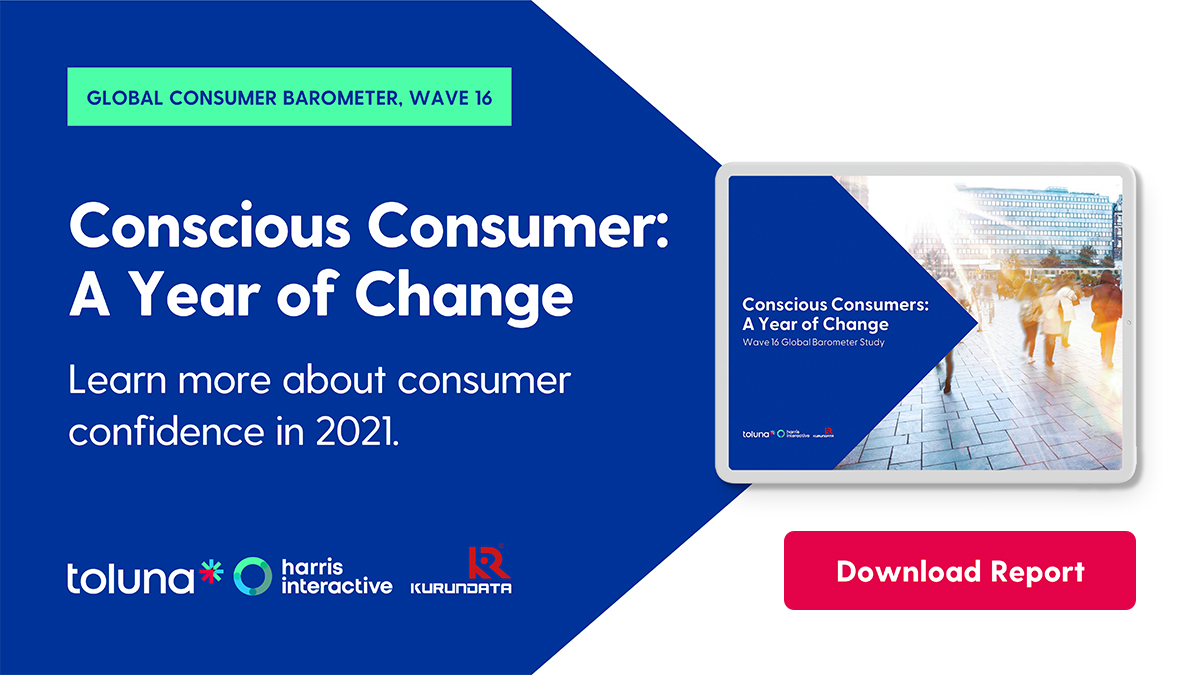 ​
Access the latest Global Consumer Barometer
Secure your copy of the latest wave of global research from our Global Consumer Barometer. Now in its 16th wave, this special edition report features topics suggested by our clients representing some of the biggest and best known brands in the world.
New Product Development

is one of the many automated solutions built within the Toluna Start platform. Maximize success, faster, with Toluna Start:

Test products early and throughout the product launch cycle to optimize features benefits and packaging
Uncover unmet needs and address them with a new or enhanced product or service
Develop products that deliver, so you can bring your product(s) to market with confidence.
Future Fit Brand Health Measurement

This session shares our unique approach to brand health measurement, beyond traditional brand equity, looking at the latest research on leading brands in key sectors, and best-practice brand health measurement in action.
Understanding the New Consumer: What to Expect in 2021

Hosted by Ad Age with Coefficient Capital, we look at the impact of consumer changes and how brands can adapt, understand the consumer, and identify areas of opportunity for 2021.
New, Toluna Start Resource Center

The Toluna Start Resource Center offers training materials including articles, eBooks, research, user guides, and videos on topics like launching a project, registering and logging in, or accessing the more sophisticated features of Toluna Start. The resource center is available for all new and existing clients.
The world has changed and top CMOs are changing their approach to brand health management.

Consumer behaviours and expectations are changing. We see successful brands adapting brand health management to be more agile and enable quick, impactful decisions to keep pace with consumers and stay ahead of the competition.
Our best-in-class approach to quality

Our commitment to quality is the very foundation of our business and is embedded throughout all of the work that we do. Toluna's holistic approach to insight quality ensures results you can trust. That means more research, less time, and less budget.
Our Global Community has grown in 2021

Tap into the power of more than 36 million people around the globe. Our members are ready, willing, and able to provide the feedback you need, all in real-time to supercharge your decision-making.
We've updated our Profile book

From media habits to household details, our panelists have over 400 profile points that you can tap into.
Summer travel is selling out in some places — see what's already booked and where

Interested in traveling this summer? You're not alone. Based on our Global Barometer Data, "Americans are gaining confidence with travel from each passing month, with 27% comfortable to travel in April and 42% by July."
Moving From Work From Home To Work From Anywhere: Setting Up The Future Of Work For Success

We looked at the attitudes of employees towards virtual work. "Overwhelmingly, most think, 90 percent, the future is a hybrid model where some days employees work from the office and some days from home."